ALL STAR CATERING
CONROE, TEXAS
All Star Catering has been the premier caterer since 2005 for Conroe, The Woodlands, North Houston,and surrounding areas. They are recognized as an elite caterer for their delectable dishes and ability to organize beautiful and memorable events. Their new 7,500 sf pre-engineered metal building facility will be located on approximately two acres and is to include office space, retail space, tasting rooms, state of the art kitchen, warehouse prep area, and an outdoor barbecue area.
The building's dominant entry with their logo prominently displayed will be a beacon to attract current and future clients. Use of metal panels, window canopies, and single slope roof are cost effective and aesthetically pleasing design elements.
NORTH THOMPSON CAFE AND RETAIL
CONROE, TEXAS
Situated in downtown Conroe adjacent to the railroad tracks sat a brick building which was once a county health facility. The building sat empty and is now being revitalized as a mix use facility.
The Honor Cafe will be a tribute to the men and women who have served our great country. A League of Extraordinary Gentleman will be a retail center for men's clothing and weaponry. Military and armory memorabilia will be on display loaned from local museums and personal collections.
The nearly 9,500 sf brick building will have its roof raised. The structure has been modifed to allow for open ceiling industrial look with new steel support and metal roof. The metal panel infill will provide a contrast to the existing brick. Windows will be cut in at the Cafe to allow natural light and views.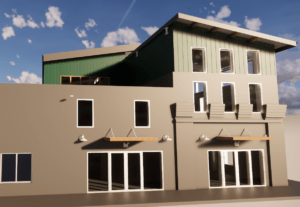 SIMONTON MIXED USE
CONROE, TEXAS
Located in historic downtown Conroe adjacent to the railroad tracks sat a dilapidated building with a rich history. Over the years the building has housed a theater, hardware store, bank, and telephone company. A 1911 fire destroyed much of Conroe yet a portion of the Simonton building remained.
Phase 1 includes two story office spaces and a pizzeria – The Vault. Phase 2 includes addition office spaces and residential. The past meets the present with preservation of the triple wythe brick walls from the existing building contrasted with the use of metal panels. The structural steel skeleton will support a new metal roof.